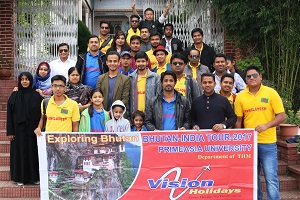 Welcome to Department of International Tourism and Hospitality Management – ITHM of Primeasia University. A bachelor's degree in International Tourism and Hospitality Management is a passport to opportunities in a multi-trillion-dollar worldwide industry. Such a degree will provide affordable and quality education through interactive learning, educating entrepreneurial skills to support individuals with innovative ideas to change tourism and hospitality industry in a positive attitude. Sharing theoretical and practical knowledge and experience through seminar, workshop and co-curricular activities so that bachelor's degree in ITHM can work in the areas of airlines, travel agency, tour operator, tourism & hospitality training institute, teaching/lecturing, tourism publications house, tourist information centre, national tourist organization, amusement parks, restaurant management, lodging, conventions and trade show management, special events management, destination marketing, club management, etc.
Why ITHM at Primeasia University
Primeasia University's Graduates have tremendous career opportunities in the international and national organization in home and abroad.
This program is approved by Government of Bangladesh and University Grant Commission- UGC.
Well experienced and overseas trained qualified faculty members having long research/industry experiences from prestigious institutions.
Updated course curriculum and course module.
Course designed to meet the demands of the leading international and national organizations.
Strong academic foundation, students are also required to complete 1 year internship at leading hotels, resorts, and attractions locally or overseas, as part of the curriculum, to gain a real-world understanding of the complexities and demands of the hospitality sector.
The courses are carried out in a reasonable duration and the assignments are fun and challenging. Realistic scenarios are used during the lessons.
Credit transfer facilities in the famous universities of the world.
ITHM students may get from 25% to 100% tuition waiver or scholarship based on performance.
Collaboration with INSTITUTE OF HOSPIATLITY MANAGEMENT, IRELAND AND COLLEGE OF TOURISM AND HOTEL MANAGEMENT, CYPRUS.
Career development support for Primeasia University graduates.
Opportunity to develop in the areas of leadership and marketing besides the tourism aspects.
A modern library with up-to-date Journals, Periodicals, and round the clock high speed internet connection.
For excellent career opportunities, It provides modern Classroom, Demonstration kitchen, Restaurant, Bar and Housekeeping lab with all state-of-the-art facilities.